NBA 2K18 is a deep game with a variety of features, and most of them are well done, but the best of the lot are MyGM and MyLeague.
When it comes to functionality, depth, innovation, immersion, and fun, every 2K fan should be giving these modes a look. If you're unaware of what MyGM and MyLeague offer, here are 10 qualities that make it the class of the NBA 2K18 feature set.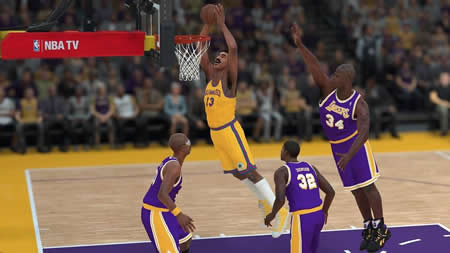 Two Similar, But Different Experiences
MyGM and MyLeague are both franchise modes at the root, but the former is purely a single-player journey with a storyline. It blends elements of MyCareer, but it doesn't lose the flexibility and team-building concepts that make franchise modes fun.
MyLeague was once described to me as "the ultimate sandbox tool." Each year since NBA 2K15, the mode has lived up to that description more and more. No other sports video game allows you to have two different franchise mode experiences.
Depth And Innovation
MyGM and MyLeague offer more options and unique concepts than any other sports video game.  Sony's MLB The Show is the closest to MyGM and MyLeague, but its franchise mode is still a distant second. It's not the sprawling, widespread concept that The Neighborhood is, but in their own space, MyGM and MyLeague deliver admirable new tech and ideas.
Despite the loss of collegiate sports, 2K implemented the ability to create and share draft classes to keep that element of the franchise mode in order. Unfortunately, MyGM doesn't allow you to use custom draft classes in Year 1 of the journey this year, but that's like a slight scratch on the hood of a Rolls Royce.
No other sports video game gives you as much control over draft classes.
This year's game delivers real-life advanced statistics that can be viewed in game, and the data can be turned into a chart used for your own education or as a team-building tool within the game.
You Can Enjoy Them Alone, Online or With Couch Play
Playing online has obviously been a great thing for gaming overall, but sometimes it's nice to find a mode that you can enjoy that doesn't require cooperation from complete strangers.
MyGM is strictly single player, but MyLeague is versatile. You can control one or all of the teams in the league. There's an online version of the mode, though it's missing a few of the features offline gamers enjoy.
Still, it's a more verbose online franchise mode experience than you can find with other sports video games.
There's also a couch play option. What's that? It's a simple concept that allows you and a friend or family member to play through a number of NBA seasons with you.
To this day, my most rewarding gaming experiences have come from this style of play. MyLeague makes me feel like I'm an 11-year-old again playing sports video games with my brother, only I don't have to manually keep up with the stats like I did before, and my son is now my partner in crime.
The Challenge Is Real
If you think playing NBA 2K18 on Superstar difficulty is too easy, you're either being less than truthful or some kind of virtual hoops savant. The mode delivers a solid challenge that will render realistic statistics and standings if you play through the season.