FIFA 17 Ultimate Team is out now and people are eager to get ahead of the game and beat their friends. One of the biggest success factors FIFA Ultimate Team is how much money you have, so follow this guide to go from rags to riches.
This is a list of players who I have have traded successfully. The majority of the ones on this page are rare Gold Players, but there are players in all price ranges so you can trade no matter how little money you have. I wouldn't recommend this page if you have less than 20,000 coins. For now, your time is better spent playing matches. Once you play a few seasons or sell enough players to get that initial 20,000 you can come back here to make megabucks!
Which Price Range Should I Use?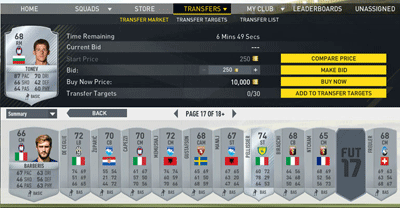 Knowing how much you should spend on players is easy, and can be divided into three easy steps:
Record your total coins.
Divide your total coins by 20.
The result is how much you should spend on each player.
It really is that simple, for example, lets say I have 80,000 coins…
80,000
80,000/20=4,000
4,000 is the max that should be spent on each player
Now I can see that I shouldn't buy anyone for more than 4,000 each. This allows me to buy or sell at least 20 of each player.
How Much To Spend On Players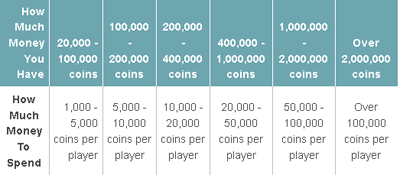 Players by Price
Here is a list of players who in my experience are optimal for trading at a profit. I've organized them by price range. The format for naming players below is:
Name (Price, Club, Nationality, Position, Rating)
1,000 – 5,000 Coins Per Player
Jese Rodriguez (1,000 coins, Real Madrid, Spain, LM, 76)
Adel Taarabt (2,000 coins, QPR, Morocco, CAM, 79)
Diego Godin (2,300 coins, Athletico Madrid, Uruguay, CB, 84)
Raphael Varane (3,500 coins, Real Madrid, France, CB, 81)
Douglas Costa (2,000 coins, Shaktar Donetsk, Brazil, CAM, 80)
5,000 – 10,000 Coins Per Player
Tim Howard (6,000 coins, Everton, USA, GK, 82)
Theo Walcott (8,800 coins, Arsenal, England, RM, 81)
Luiz Gustavo (5,000 coins, Wolfsburg, Brazil, CDM, 82)
Miranda (6,000 coins, Athletico Madrid, Brazil, CB, 83)
Christian Eriksen (7,000 coins, Tottenham, Denmark, LW, 83)
10,000 – 20,000 Coins Per Player
Eliaquim Mangala (11,500 coins, Machester City, France, CB, 80)
David De Gea (12,000 coins, Manchester United, Spain, GK, 83)
Leighton Baines (14,750 coins, Everton, England, LB, 82)
Gael Clichy (13,000 coins, Manchester City, France, LB, 80)
Laurent Koscielny (17,000 coins, Arsenal, Frnace, CB, 81)
20,000 – 50,000 Coins Per Player
Petr Cech (30,000 coins, Chelsea, Czech Republic, GK, 85)
Jeremy Menez (In-Form) (40,000 coins, AC Milan, France, CAM/CF/ST, 80)
Felipe Luis (24,000 coins, Chelsea, Brazil, LB, 82)
Philipp Lahm (40,500 coins, Bayern Munich, Germany, CDM, 87)
Andres Iniesta (47,000 coins, Barcelona, Spain, CM, 89)
50,000 – 100,000 Coins Per Player
Vincent Kompany (83,000 coins, Manchester City, Belgium, CB, 86)
Alexis Sanchez (67,000 coins, Arsenal, Chile, RW, 84)
Bastian Schweinstager (54,000 coins, Bayern Munich, Germany, CM, 88)
Karim Benzema (56,500 coins, Real Madrid, France, ST, 85)
Sergio Ramos (98,000 coins, Real Madrid, Spain, CB, 87)
100,000+ Coins Per Player
Yaya Toure (200,000 coins, Manchester City, Ivory Coast, CDM, 86)
Neymar (290,000 coins, Barcelona, Brazil, LW, 86)
Eden Hazard (270,000 coins, Chelsea, Belgium, LM, 88)
Sergio AgUero (240,000 coins, Manchester City, Argentina, ST, 86)
Angel Di MarIa (190,000 coins, Manchester United, Argentina, CAM, 86)
How Much Money Do You Have?
How many coins do you have on FIFA 17 Ultimate Team?
10,000 coins or less
10,000 – 20,000 coins
20,000 – 50,000 coins
50,000 – 100,000 coins
100,000 – 250,000 coins
250,000 – 500,000 coins