Like last year, Madden NFL 18 is another one of Madden's down years.  As players of the series will know, there are years when sweeping changes hit the game, and there are years when the game feels more like a roster update.  While Madden NFL 18 can certainly be looked at as more than a roster update with tweaks and changes to core game modes, the introduction of a narrative driven story mode for the first time in the series, and marking a transition to DICE's Frostbite Engine that powers many EA games, Madden 18 does not feel like much of an upgrade over Madden 17 when looking at it across the board.
What's been included this year feel like risk averse additions to the game.  EA Tiburon takes very little chance in improving the annual franchise in meaningful ways this year when it comes to gameplay features, and even the new Longshot story mode lands with a thud as it just doesn't have the type of quality that you'd expect from a single player campaign-like experience in terms of writing or presentation, despite desperately wanting to be something that picks at the player's emotions, telling the story of two NFL hopefuls.   While it's a first run for EA and not quite as shlocky as NBA 2K's Livin' Da Dream mode from 2016, Longshot feels like a take it or leave it mode.  While some might enjoy it as a break from the core Madden modes, there's not much substance here.  With more cinematic meat on its bones than actual gameplay, Longshot can wear out its welcome pretty quickly.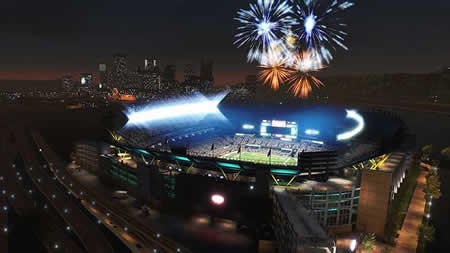 Looking past this highly touted new mode, you really start to look at the engine switch as the feature for the game that's supposed to sell it.  Unfortunately, the graphical improvements that we see from Frostbite in Madden 18 aren't many.  Improved lighting is probably the most evident change.  While things like character models and animations look and feel much like they did last year.  Some player face models seem to have gotten a visual bump, but it's certainly not the type of generational leap that we saw a few years back.  Perhaps giving Tiburon a few more years to work with Frostbite as they push further away from the Xbox 360 and PS3 generation of consoles, we'll continue to see improvements across the board.  This year, however, is not a year that will make your jaw drop.  In fact, many of the small things and visual glitches that we've seen in previous Madden games still haven't been fixed.  Awkward player animations, tackling that feels like the players are magnetized, and weird ball and player physics that crop up from time to time are evident throughout the game.
Franchise Modes are a big thing for sports games, and EA continues to really ignore this aspect of their game… at least in adding new features and expanding on it.   Franchise mode this year really doesn't have any standout improvements to highlight.  Franchise starting points are one, but it's such a slight tweak to the formula that it really only changes the game in a marginal way.  Customizable Draft Boards also are a new addition to this mode, allowing auto-drafters some chance at building a solid team.  While it hasn't been improved significantly with features that some of the fan base have been clamoring for in terms of depth, Madden 18's CFM is certainly serviceable.  The mode offers multi-year progression in online or offline franchises, with the option to do fantasy drafts and manage many of the aspects of your team's franchise.  With the lack of additions to this mode compared to last year, it really feels like EA is funneling players towards Madden Ultimate Team where all that sweet, sweet microtransaction money can be made.
As we know many players want to get cheap madden nfl 18 coins to get extra profits in Madden Ultimate Team? If that's what you want, Mmocs.com is the right store you might like. Get madden 18 coins now with special Halloween promotion.