Into its 12th year and seventh edition, the latest Xbox One/Windows-exclusive Forza Motorsport 7 (FM7) is striving to be the ultimate racing game for everyone.
You can turn on traction control, brake assist and suggested driving line if you think you are not confident. Or you can turn off all these driving assists and even the rewind feature, as well as bump up the difficulty level, if you want the challenges to be tougher.
The ability to tweak also applies to the cars you are driving. You can opt for automatic tuning. Or you can tinker with the car's gear differential, tyre pressure, suspension and camber.
But whether you are a newbie or veteran, you will appreciate FM7's probably unrivalled long list of cars and tracks. There are over 700 cars and more than 200 tracks across 32 different racing environments that you slowly experience over time.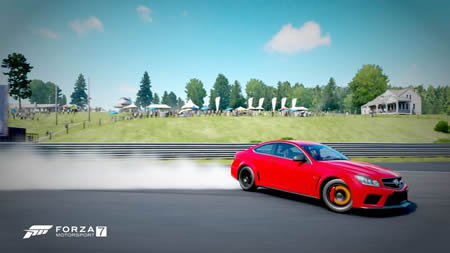 You can almost find any car that you can imagine – from a vintage 1966 Chevrolet Corvette to state-of-the-art Formula E racing cars. You can also drive on tracks ranging from Top Gear's test track to the former US F1 track Watkins Glen.
In single-player mode, you can try Free Play, in which you choose a car and a track, and go for a few laps. But the main focus is the Forza Driver's Cup, where I think most gamers will spend the bulk of their time. It is also where you start the game. You create a driving avatar – Drivatar – and participate in various racing series in order to gain experience and move up the ranks.
After each race, you not only gain experience but also in-game credits known as CR. With more CR, you can buy better cars to join higher-ranked races.
Before each race, you can use Mods cards to increase your experience and CR. You have to complete certain objectives during the race, such as making three perfect passes or driving without the help of a suggested driving line, as stated by the cards.
But these Mods cards come in Prize Crates, which are bought using CR. Thus, you are caught in the dilemma of whether to save the CR for a new car or Prize Crate. This is probably the only downer in this game. Still, you can gain plenty of CR by just driving in the game. And that is something you probably will be doing as this is an absolutely beautiful game.
Whether it is your Drivatar's clothing or the car's paint job, the amount of details exhibited and the realism of the textures are stunning. Lighting effects are realistic to the point that you can see the car's dashboard reflected on the windscreen.
Furthermore, it is amazing that, with the number of cars available in this game, the developers still managed to make sure all of the cars' exteriors and interiors are faithfully reproduced, right down to the dashboards, panels and gears.
But it is not just cosmetic. The handling and ride of each car feels different as well. For instance, when speeding up a slope, you can feel the car's engine struggling to keep the pace up.
I am also impressed with the dynamic weather system. You can be driving in dry conditions in one moment, and deal with rainy, skid-prone conditions in the next.
Verdict: Forza Motorsport 7 is quite simply the best racing game to date, with its accessible realistic driving and gorgeous graphics.
Once you want to learn more news about Forza Motorsport 7 or you want to buy cheap FM7 Credits, you can come to mmocs.com. We promise you'll get best service.