How to build an Ultimate Team in FIFA 18, achieve great chemistry, earn FIFA 18 Coins quickly and stand the best chance of success when playing online. Get the best cheap players for Ultimate Team and learn about OTW cards. Squad Building Challenges explained, and FUT 18 Card Packs detailed. Squad Battles, How to Beat Teams on Legendary. Ultimate Scream event detailed.
In FIFA 18 Ultimate Team FIFA Coins are key. You need them to buy players and consumables, and learning how to get as many as possible is essential if you want to avoid spending any real world money. In this FIFA 18 Ultimate Team How to Earn FIFA Coins guide we'll detail the best ways to earn FIFA coins easily in FIFA 18 Ultimate Team, and go over the activities you can repeat over and over to ensure your FIFA 18 coin balance is always as high as possible.
How to Earn FIFA 18 Coins Quickly and Easily in FIFA 18 Ultimate Team
This FIFA 18 Ultimate Team guide is focused on how to earn FIFA Coins quickly and easily. We'll go over the various daily and weekly activities you can take part in, plus give some tips on how to play the transfer market to make more FIFA Coins.
Squad Battles are a Huge FIFA 18 Coin Earner in FIFA 18 Ultimate Team
We've got a full guide for Squad Battles in FIFA 18, but the short of it is that taking part in the weekly squad battles can earn you a LOT of FIFA Coins. Each match earns you coins and the better you do the higher you'll rank, and the better the prizes you win will be. Get involved. It's worth it.
Squad Building Challenges Earn you FIFA 18 Coins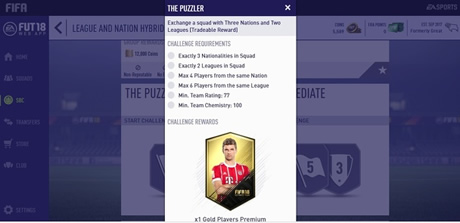 FIFA 18 Ultimate Team makes building squads its own puzzle mini game. Squad Building Challenges in FIFA 18 Ultimate Team are added all the time (some with time limits, some without) and task you with building a squad to meet certain criteria. Each challenge includes numerous puzzles, each with its own reward (sometimes tradable, sometimes not) before you earn the big prize for completing the whole challenge.
If you've built up a large roster of players you should be able to complete a number of these fairly easily and potentially earn big FIFA Coin rewards or players that can be sold for coins. Putting suitable players for live Squad Building Challenges onto the transfer market should also help you bag some FIFA Coins.
We'd suggest that Squad Building challenges are not as much fun to play as Squad Battles, but they can be played when you don't have access to a console or PC to play FIFA 18.
Web App – Daily FIFA 18 Coin Rewards
The FIFA 18 web app is free to use if you have an EA account and have played FIFA 18. Every day you log in you'll get a FIFA Coin reward of some sort. The web app is also a useful way to take part in the Squad Building Challenges and manage your transfers if you're away from you console or gaming PC.
Team of the Week Challenge net you FIFA Coins
Take on the Team of the Week and you'll earn a nice sum of FIFA Coins. The harder the difficulty you choose, the more coins you'll earn.
Sell to Swap Unwanted Players for FIFA Coins
This is obvious, but if you have players sat around you can either use them to complete Squad Building Challenges or sell them (as long as they are tradable). List every play you don't need and make some coins.
Daily and Weekly Objectives Earn you FIFA Coins for Hardly Trying in FIFA 18 Ultimate Team
FIFA 18 Ultimate Team's Daily Objectives and Weekly Objectives are an easy way to earn FIFA Coin rewards. Each time you boot up FIFA 18, check out the objectives and see if there any any you can complete while playing your usual games. Some rewards are FIFA Coins and others are card packs, but pack contents can be sold on the transfer market.