With many people on a holiday break, EA's Madden 21 Ultimate Team has been getting plenty of new content. From Christmas Day and over the weekend, there were new Legends, Out of Position, and Ghosts player items. On Monday, December 28, more Madden 21 Zero Chill content arrived as a group of Ghost Pack Masters and OOP player cards dropped.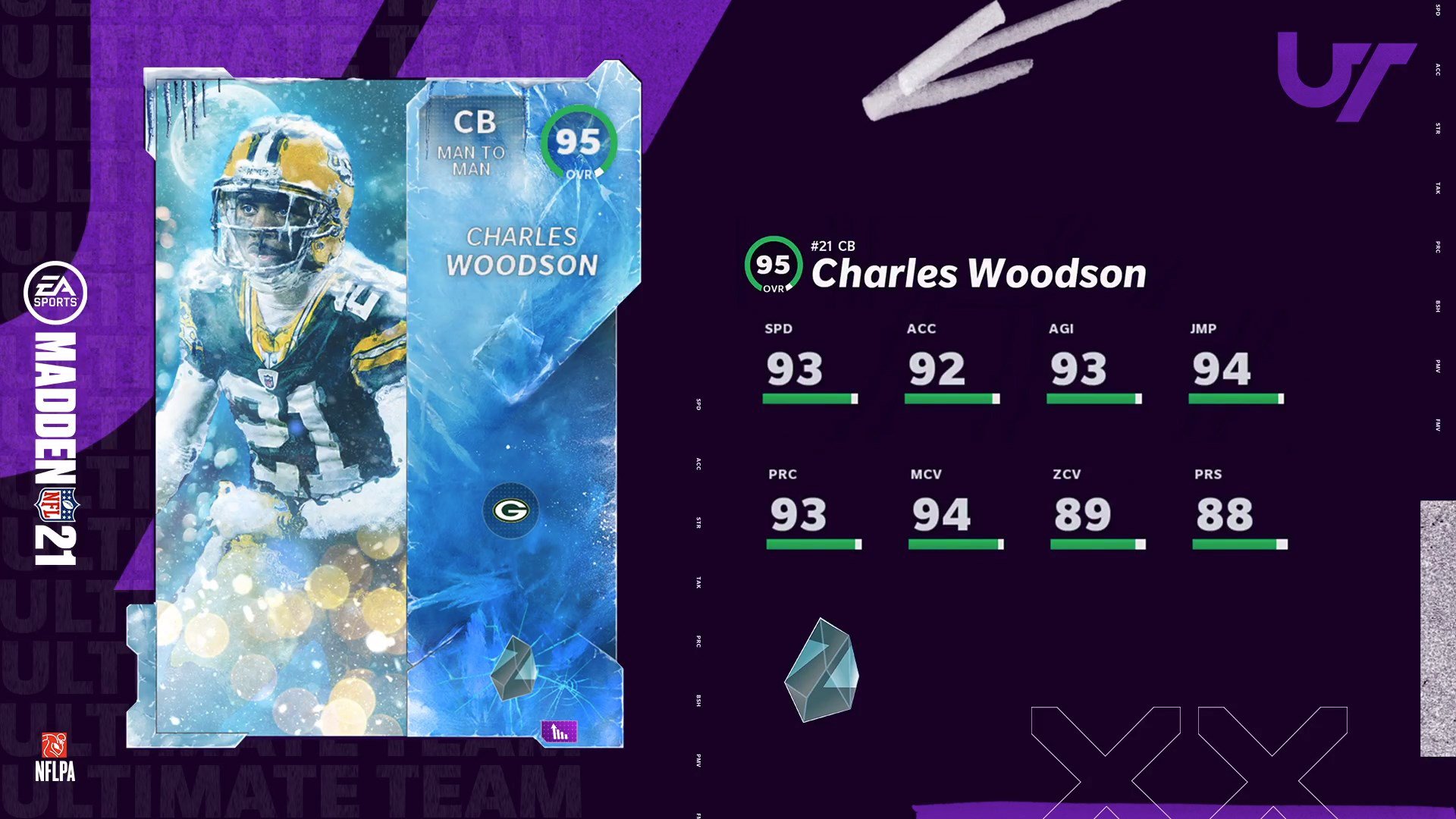 When is Zero Chill Madden 21?
Let's get into the good stuff. The full list of players in Zero Chill, Frozen Players, and Snow Beasts.
Zero Chill
95 Charles Woodson (Master)
95 Derrick Henry (Master)
93 Zach Ertz
93 Kenyan Drake
93 Odell Beckham Jr
93 Geno Atkins
93 Justin Houston
93 Malcolm Jenkins
89 TY Hilton
89 Josh Allen
87 Xavier Woods
87 Carson Wentz
85 L.J. Fort
85 Greg Van Roten
83 Cody Whitehair
83 Taron Johnson
81 Robert Tonyan
81 Zach Cunningham
We talked about some of the released content in this year's version of Zero Chill. Two of the best cards in Zero Chill are a 95 OVR Charles Woodson (Master) and a 95 OVR Derrick Henry (Master). Players that earn either of those two cards are sure to be set moving forward in their seasons.
The ninth sequence in the How The Grouch Won MUTmas sequence also arrived on Monday, December 28. It's called Mr. Grouch is Comin' To Town. This new sequence is worth a total of 3,500 Coins and another 35 Stars towards the various milestones in Zero Chill.
These sequences have basically provided Zero Chill rewards including Chill Factor upgrades, Snow currency, and Beast Food, among other items for the promotion. This one ends on January 4th, so make sure to complete as much as possible before that date arrives if you want to take advantage of the Madden 21 Zero Chill grind.
Snow Beasts
These players will start at an 80 OVR Snow Beast as a Chill Factor reward. Earn Beast Food Collectibles by increasing your chill factor rank to unlock chemistries, ability slots, and upgrade your Snow Beast to an 93 OVR.
Marshon Lattimore
Jason Kelce
Eddie Jackson
Lamar Jackson
Madden 21 players can not have asked for a better start to Zero Chill than this. It will be fun to see what EA does moving forward with the event over the next couple weeks.
Other notable cards are the 93 OVR Zach Ertz, 93 OVR Odell Beckham Jr., and 93 OVR Kenyan Drake. There are a bunch of players that can be upgraded to 90+ OVR via sets and challenges.
The above are available through packs in the Store, or can be bid on or bought at the Madden Auction House.There's no better place on the web to get NFL 21 Coins/Madden Ultimate Team 21 Coins than right here. Z2U.com provides gamers with safe and secure transactions.